Music, art and food in the heart of Trastevere, a unique experience
If you want to take in the essence of the city, Trastevere is the place you must see.
Our event takes place in a historical site, just recently made accessible to the public with archaeological and artistic settings from Imperial Rome to Baroque Rome (Bernini, Borromini, Algardi, etc.).
During this unique concert, music and instruments will take you back in time from Emperor Hadrian (II c.) to Pope Innocent X (XVII c.). The English tour of the Church and Museum of Santa Maria in Cappella will be scenically played by the fascinating historical figure of Donna Olimpia, one of the most intriguing characters of Seventeenth Century Rome.
To close up you will have a brunch in the Secret Garden of Donna Olimpia, an exclusive and unforgettable experience.
Duration: about 60' (Concert and Tour)
Venue: Chiesa S. Maria in Cappella - Secret Garden of Donna Olimpia • Lungotevere Ripa 3 (Trastevere, Tiber Island)
Chiesa S. Maria in Cappella - Secret Garden of Donna Olimpia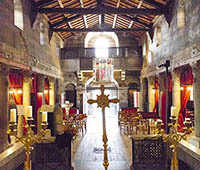 Santa Maria in Cappella e Giardino segreto di Donna Olimpia
In the heart of Trastevere, an area that more than any other maintains the spirit of old Rome, there lies the Church of Santa Maria in Cappella. The Church was built in the twelfth century by reusing marble, columns, and materials from Imperial Rome. A treasure trove of art, it has a precious altar made from a preexisting ancient Roman one, relics of Saints, among which St. Peter the Apostle, works of art from Ancient to Medieval Rome and pieces of Bernini and Borromini. It was here that Santa Francesca Romana, a beloved saint of Rome, attended the needy and the sick in the fifteenth century. Along with the museum and The Secret Garden of Donna Olimpia, just recently opened to the public, the Church is one of the most interesting historical sites of the ancient City, where even today archaeological excavations continue to bring to light interesting artifacts.

Donna Olimpia, a powerful member of the Pamphilij family, created in the seventeenth century "The Garden of Delights of Donna Olimpia" also known as "The Secret Garden" or "The Baths of Donna Olimpia", in the area that encloses the Church of Santa Maria in Cappella and the old Hospital, right downstream to the Tiber Island, where in ancient times there was the most important river port of Rome: the Port of Ripa Grande.

The large Garden, in the middle of which is the Fountain of the Snail by Gian Lorenzo Bernini, has an incredible variety of flower and fruit trees, as well as rare floral and aromatic plants. Overlooking the Tiber river, Donna Olimpia also built a marvelous Belvedere with a clubhouse: these structures have been shown in paintings and prints, among which the famous scenes of Gaspar Van Wittel (also known as Vanvitelli).
Program
Mesomede di Creta (Composer of Emperor Hadrian, II c.), Inno a Nemesi – Inno alle Muse
Guiot de Dijion (XIII c.), Chanterai por mon courage
Diego Ortiz, Recercada Segunda (XVI c.)
Orazio Vecchi (XVI c.), So ben
Fabritio Caroso (XVI c.), Balletto Alba Novella
Luca Marenzio (XVI c.), Fuggirò tanto amore
Andrea Falconieri (XVII c.), O vezzosetta dalla chioma d'oro
John Dowland (XVII c.), Flow my tears
Giulio Caccini (XVII c.), Dalla porta d'oriente
Andrea Falconieri (XVII c.), Dolci sospiri
Athanasius Kircher (XVII c.), Tarantella Tono Hypodorio
Adrian Willaert (XVI c.), Vecchie letrose
Artists:
SCHOLA ROMANA ENSEMBLE
Paola Alonzi, Soprano
Stefano Sabene, Kithara / Psaltery / Recorder / Traversa / Percussions
Lorenzo Sabene, Pandura / Lute / Theorbo / Baroque guitar
Ticketing
Box Office at the event location, opening at 10:30 a.m. before the events.
Ticket: € 33 (Normal) – VIP € 43
VIP customers, will be seat from the 1st to the 2nd row and skip the line
With Roma pass you have a discount: € 30 instead of € 33.
Brunch (optional, only on reservation)
Ticket: € 56 (Normal) – VIP € 66
VIP customers, will be seat from the 1st to the 2nd row and skip the line
Dress code: not required.
What's included
The ticket includes:
Concert with music from Imperial Rome to Baroque on original instruments
Scenic Guided tour
English and Italian explanation of the songs
Optional Brunch (only on request) Menu with reservation of the table in the Secret Garden of Donna Olimpia:
Taste of Italian cheeses with honey and marmalade
Selection of Italian salami
Vegetable crudités
Black rice salad with season vegetables
Trofie pasta with pacchino tomatoes and Italian buffala mozzarella
Season fruits
Sweets
Mineral water, a glass of wine
(there can be some changes to the menu due to seasonal availability, in order to give the best produce)
This was truly a lovely experience. Make this a part of your "to see and to do" list while you are in Rome.
A one of kind opportunity to live The Eternal City with all of our senses at once. Thank you!
The concerts were intimate experiences of talented musicians and singers, splendid music and the vibrant spaces of the churches where the concerts took place.
A superb way to spend an hour in this wonderful city
Intellectually fulfilling and fun. It may not seem very touristic, but it would take your visit to Rome to another level.
The concert would have been enough with just the knowledgeable tour of the church. Add beautiful baroque music to that and I was in heaven.
We felt almost transported back in time. An experience not to be missed.
Shouldn't be missed by anyone who likes music, especially early music!.
What a great way to have an experience in a Baroque Palazzo.
It was a unique experience! Interesting and moving.
We were charmed by the genuine enthusiasm of the performers and recommend to other Travellers
We warmly recommend anybody, visiting Rom, who loves painting art as well as music to participate to this sound and vision tour.
beautiful church, and music!
Great venue - beautiful singing - they really gave it all they had. Highly recommended. Great start to any evening in Rome.
Well worth the investment of time and money.
A definite highlight of our trip