Sip Wine and Soak in the Breathtaking Views of Tuscany While Listening to World-Class Opera
Indulge in an unforgettable cultural experience with our Opera Show with Wine overlooking Val d'Orcia in Tuscany, Italy. This event is a perfect combination of world-class opera performances, exquisite Tuscan wine, and stunning views of the Tuscan countryside.
Our performers, including some of the most talented opera singers in the world, will take you on an emotional journey through the world of opera. You'll be able to enjoy their beautiful voices and acting skills while immersing yourself in the romantic setting of Val d'Orcia.
What's more, you'll get to taste some of the best Tuscan wines while enjoying the show. The selection of wines is carefully curated to pair perfectly with the culinary delights of Tuscany, creating a sensory experience that will take your breath away.
The event is hosted in an enchanting venue that provides a perfect setting for a night to remember. The venue overlooks the Val d'Orcia valley and offers breathtaking views of the rolling hills, vineyards, and olive groves that make Tuscany famous.
In addition to the show and wine, you'll also have the option to indulge in authentic Tuscan cuisine, including antipasti, pasta dishes, and traditional desserts. Our culinary team uses only the freshest, locally sourced ingredients to create an unforgettable dining experience that complements the wine and opera perfectly.
Don't miss this opportunity to immerse yourself in the rich cultural heritage of Tuscany while enjoying an unforgettable night of opera and wine. Book your tickets now and let us take care of the rest. We look forward to welcoming you to our Opera Show with Wine overlooking Val d'Orcia in Tuscany, Italy.
Duration: 70 min.
Venue: Terrazza del Chiostro • Corso Il Rossellino 26 - Pienza
Terrazza del Chiostro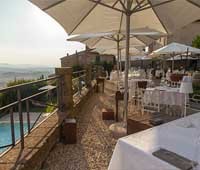 Located in a former 15th century convent, in the historic center of Pienza, the Terrazza del Chiostro (Terrace of the Cloister) offers a splendid panoramic view of the Val D'Orcia.
Pienza has been a UNESCO heritage site since 1996, as one of the most precious examples of Renaissance architecture. The Terrace is part of the monastery of San Francesco, which experienced events of historical importance during the Renaissance. In this monastery Pope Pio II (Enea Piccolomini) celebrated his first mass, while during the war of Siena the city suffered violence and looting.
The monastery was enriched over time by the artistic and architectural beauties of the community of monks, who lived there until the eighteenth century, making the site one of the most fascinating in Tuscany, for the artistic achievements and the atmosphere imbued with mysticism.
Program
Mattinata (Duetto), Ruggero Leoncavallo
E lucevan le stelle (Tosca), Giacomo Puccini
O mio babbino caro (Gianni Schicchi), Giacomo Puccini
La donna è mobile (Rigoletto), Giuseppe Verdi
La vergine degli angeli (La forza del destino), Giuseppe Verdi
O soave fanciulla (Boheme), Giacomo Puccini
Quando men vo' (Boheme), Giacomo Puccini
Addio fiorito asil (Madame Butterfly), Giacomo Puccini
Giusto ciel (L'assedio di Corinto), Gioacchino Rossini
Addio del passato (La Traviata), Giuseppe Verdi
Vesti la giubba (I Pagliacci), Ruggero Leoncavallo
Libiamo nei lieti calici (La Traviata), Giuseppe Verdi
Artists:
Simona Parra, soprano
Claudio Rocchi, tenore
Tei Kim, piano
Concert programme may be subject to change
What's included
Entrance in the Terrazza del Chiostro
Reserved Table in your name
Opera concert
Aperitif in the Terrace:
Local red or white wine to be paired with meal or non-alcoholic drink;
Selection of local mixed cured meat and pecorino cheese served with organic honey;
Typical Tuscan tomato and bread soup;
Focaccia.
Introduction in English to the musical program
Final toast with the singers
In case of bad weather the concert will be performed in a hall of the Restaurant.
A dinner on the Terrace after our event is available only by reservation.
Ticket price for the event with dinner: € 198
Menu
Starter:
Warm pecorino soufflé served on creamy and crunchy zucchini
Pasta:
Homemade short maccheroni served in typical Tuscan white ragout madjoram flavoured
Main course:
Local pork fillet crusted with local pecorino cheese and black pepper
served on potato mousse with sautéed vegetables
Dessert:
Homemade cheese cake served with caramellized red berries
Bottle of local red (Orcia rosso) or white wine (Pinot grigio di Montalcino) to be paired with meal (1 each 2 Guest)
Mineral water, coffee
This was truly a lovely experience. Make this a part of your "to see and to do" list while you are in Rome.
A one of kind opportunity to live The Eternal City with all of our senses at once. Thank you!
The concerts were intimate experiences of talented musicians and singers, splendid music and the vibrant spaces of the churches where the concerts took place.
A superb way to spend an hour in this wonderful city
Intellectually fulfilling and fun. It may not seem very touristic, but it would take your visit to Rome to another level.
The concert would have been enough with just the knowledgeable tour of the church. Add beautiful baroque music to that and I was in heaven.
We felt almost transported back in time. An experience not to be missed.
Shouldn't be missed by anyone who likes music, especially early music!.
What a great way to have an experience in a Baroque Palazzo.
It was a unique experience! Interesting and moving.
We were charmed by the genuine enthusiasm of the performers and recommend to other Travellers
We warmly recommend anybody, visiting Rom, who loves painting art as well as music to participate to this sound and vision tour.
beautiful church, and music!
Great venue - beautiful singing - they really gave it all they had. Highly recommended. Great start to any evening in Rome.
Well worth the investment of time and money.
A definite highlight of our trip