Paganini, Caravaggio, Canova: one ticket to explore the best in Genoa
A new way to visit Genoa. You will listen to the spectacular music by Paganini, played during the guided tour of Palazzo Bianco, Palazzo Rosso and Palazzo Tursi. You will see paints, frescoes, sculptures, tapestries by Caravaggio, Veronese, Rubens, Canova, and also the "Cannone", the famous violin that belonged to Paganini.
The final concert in the prestigious Concert Hall of Palazzo Rosso, with acrobatic Capricci and scintillating violin and guitar music, will end this exciting experience. Don't miss the highlight of your stay in Genoa.
Duration: about 90 min.
Venue: Musei di Strada Nuova • Via Garibaldi 11
Musei di Strada Nuova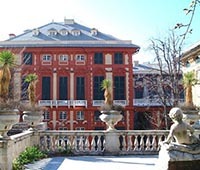 Strada Nuova, a Street museum and a UNESCO human heritage site.
Three historical Palaces, a unique itinerary of art.
Palazzo Bianco
The Palace hosts a great collection of Italian, Genoese and European artists from the 16th to 18th centuries. The famous "Ecce homo" by Caravaggio represents the highlight of the collection. Other masterpieces like the "Maddalena penitente" (a sculpture by Antonio Canova) and paintings by Veronese, Rubens, Van Dyck, Murillo, Zurbaran and many other masters are preserved inside this Palace.
Palazzo Rosso
The Noble residence of the noble Brignole-Sale family, is decorated with gorgeous frescoes and furnishings, and hosts a great collection of paintings by Veronese, Guercino, Strozzi, van Dyck, Strozzi, Dürer, and others.
Palazzo Tursi
seat of the Municipality of Genoa, retains in it's Halls a precious collection of tapestries, majolica and official coins of the old Republic of Genoa. Also the "Cannone", the violin "Guarneri del Gesù" that belonged to Paganini, is preserved in a hall of the Palace.
This was truly a lovely experience. Make this a part of your "to see and to do" list while you are in Rome.
A one of kind opportunity to live The Eternal City with all of our senses at once. Thank you!
The concerts were intimate experiences of talented musicians and singers, splendid music and the vibrant spaces of the churches where the concerts took place.
A superb way to spend an hour in this wonderful city
Intellectually fulfilling and fun. It may not seem very touristic, but it would take your visit to Rome to another level.
The concert would have been enough with just the knowledgeable tour of the church. Add beautiful baroque music to that and I was in heaven.
We felt almost transported back in time. An experience not to be missed.
Shouldn't be missed by anyone who likes music, especially early music!.
What a great way to have an experience in a Baroque Palazzo.
It was a unique experience! Interesting and moving.
We were charmed by the genuine enthusiasm of the performers and recommend to other Travellers
We warmly recommend anybody, visiting Rom, who loves painting art as well as music to participate to this sound and vision tour.
beautiful church, and music!
Great venue - beautiful singing - they really gave it all they had. Highly recommended. Great start to any evening in Rome.
Well worth the investment of time and money.
A definite highlight of our trip